Energy management starts with fleet consumption
In order to operate the Green Factory of the future in a climate-neutral manner, it is necessary to reduce energy consumption to a minimum. The driverless transport systems of DS Automotion offer the best basis for this. Through the forced use of servo motors and BUS systems in the vehicles, the energy consumption of each individual vehicle is kept as low as possible. The optimized control behavior of the vehicles avoids unnecessary accelerations and decelerations. The fleet manager NAVIOS controls the entire AGV fleet and ensures a sustainable reduction of the CO2 balance of your company through optimized goods transports and the appropriate charging strategy.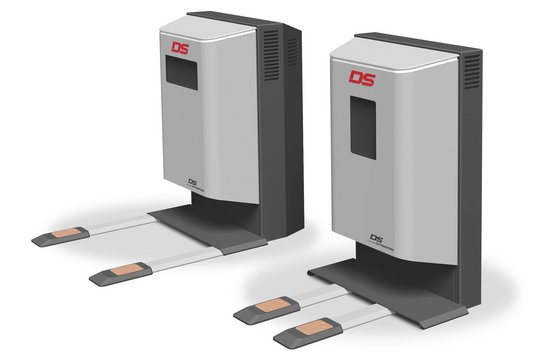 Automatic charging
In the case of automatic charging, the energy concept is usually designed for 24/7 continuous operation. The fleet control AI recognizes early on when an energy carrier reaches a critical level and proactively stops issuing new driving orders to the vehicle. Instead, the AGV is sent to a charging station, where it is recharged in the shortest possible time. With this type of charging strategy, the focus is on the highest possible charging currents in order to minimize downtimes. It is always taken into account whether peak loads are to be expected during operation and charging is avoided during these periods.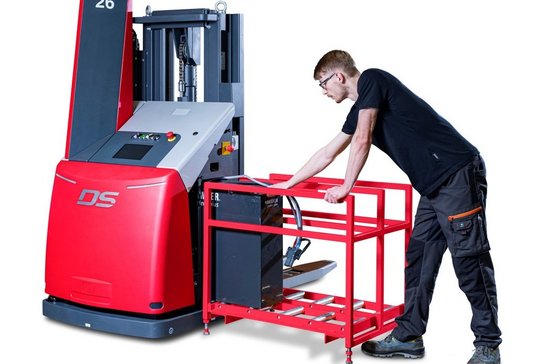 Manual charging
Manual battery replacement is an option if there are already large fleets of forklifts whose batteries need to be charged. In this case, the AGV drives to a defined battery charging point at the end of the shift, where the discharged battery is replaced by a freshly charged battery. Due to the focus on accessibility and serviceability of our vehicles, the batteries can simply be pulled on a roller conveyor into a battery changing rack, from where they are charged stationary.
Energy concepts at a glance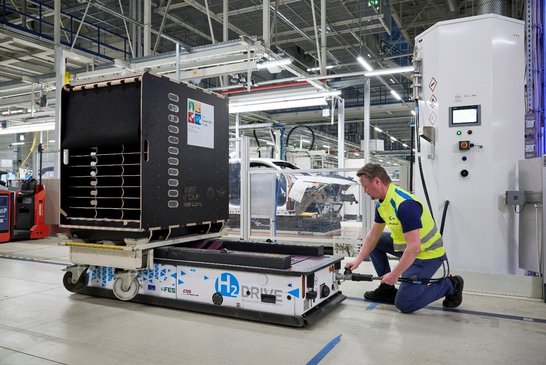 Hydrogen H2
After the first pilot application of fuel cell-powered automated tugger trains was put into operation in 2016, we joined forces with the Saxon fuel cell expert FES and our customer BMW to convert an existing vehicle from battery operation to fuel cell operation. As part of a fleet of more than 100 vehicles, this project serves to consolidate Leipzig as a thoroughly "green plant" and thus make it fit for the future.