What does autonomy mean for automated guided vehicles?
In recent years, the term AMR, "Autonomous Mobile Robot" has become very popular. The difference to the Automated Guided Vehicle (AGV) is the autonomy with which the vehicle can complete tasks. Different gradations can be realized in terms of autonomy. In most cases, these are situational reactions to changing environmental/framework conditions and system states, which are detected and evaluated with the help of multidimensional sensor information.
Plannable autonomy
Plannable autonomy is a term coined at DS Automotion. What is meant by this is the possibility of being able to navigate with vehicles both (virtually) lane-guided and autonomously. The basic building blocks for this are so-called autonomy zones in which the vehicles are allowed to move autonomously. Many AGV manufacturers navigate exclusively lane-guided, while most AMR manufacturers navigate fully autonomously. Our approach is to combine the world of AGVs with the world of AMRs to provide the benefits of both approaches.
Schedulable autonomy allows autonomous functions to be targeted where they bring benefits. Conversely, autonomous functions can be deliberately prevented where they have disadvantages.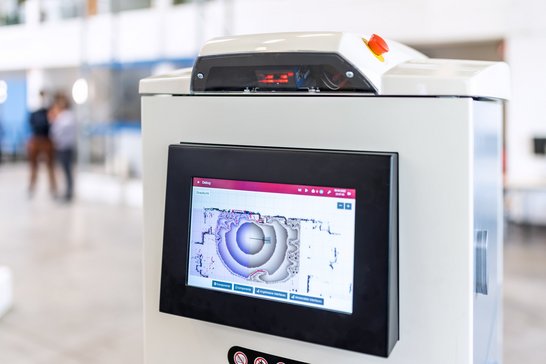 Autonomy, flexibility and efficiency
Autonomously navigating vehicles enable greater flexibility in the face of disruptions or obstructions in the working environment. If, for example, the cleaning staff leaves a cleaning trolley on the route, the autonomous vehicle can drive around it, provided there is enough space. Obstacles and disturbances always lower the efficiency of a system and therefore the transport performance of the overall system decreases. In highly automated production, for example, disruptions are prevented as far as possible by means of organizational measures. If an obstacle nevertheless occurs, it can be solved by autonomy. In order to achieve the highest possible efficiency with a good degree of flexibility, the automation must be controllable. For this purpose, DS Automotion has developed the concept of plannable autonomy.
Reactive and cooperative navigation
Dynamic objects located on the travel path are detected by sensors. These are, for example, people or manually guided machines (forklifts, lift trucks, transport carts,...) that move in the same work area. By means of reactive navigation, these can be detected as obstacles and bypassed. To avoid collisions or blockages between autonomous vehicles at intersections, the vehicles must have cooperative navigation. This means that they clarify the right of way independently without having to rely on a central traffic control system.