Safety is one of the most important aspects of automation
Automation is not just about increasing efficiency. It is also about safety engineering. When goods are moved in a controlled manner in production facilities and warehouses, significantly fewer injuries and less damage to goods, pallets and racks occur as a result. Preventing accidents is DS AUTOMOTION's top priority. That is why our vehicles are equipped with numerous safety components that contribute to accident-free transport of goods in your plant.
Safety components in our vehicles
Safety control
The heart of the safety system is PLC-based safety controllers.
Safety control for safe emergency stop of the AGV and its load handling attachments.
Integration of safety laser scanners and encoders
Safe integration of emergency stop buttons, emergency stop safety edges, limit switches, etc.
Integration of safe communication and safe position via Data Matrix camera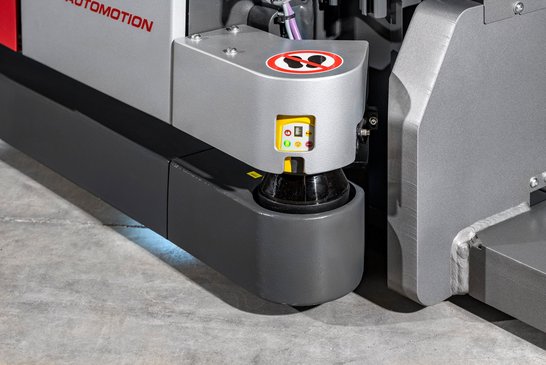 Personal security
The safety laser scanners arranged on the vehicle serve as a deactivating protective device to avoid dangerous collisions with people. By evaluating numerous warning and protective fields, the AGV can detect people and stop safely in case of danger.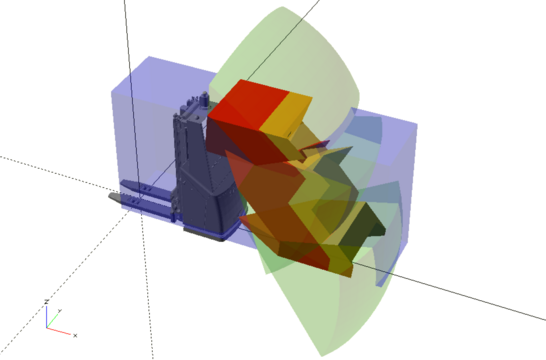 Object protection
The 3D collision protection is intended to protect vehicles from collisions with objects in the lane that cannot be detected by the safety laser scanner. These objects are in particular those that are suspended or protrude from the side into the travel path.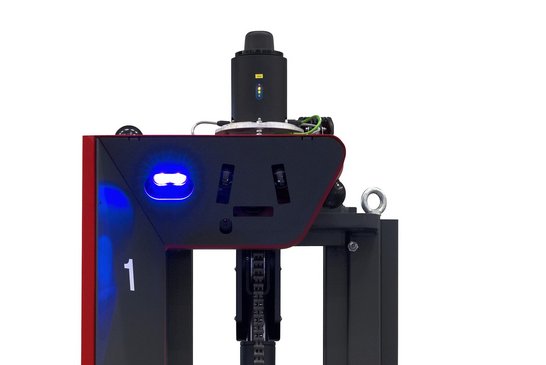 Blue-Spot
Blue Spot headlights signal to surrounding traffic with a blue dot on the roadway that AGVs are in the immediate vicinity.
It increases safety in the vicinity of the AGVs and reduces the risk of collisions caused by other vehicles.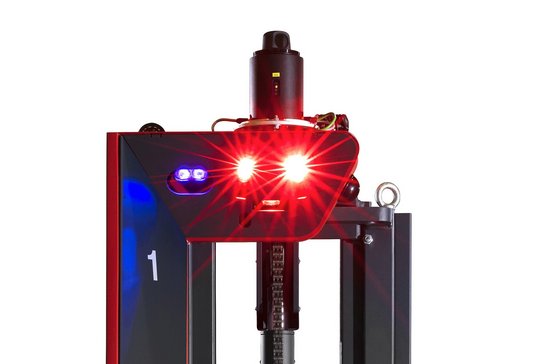 Laser-Line
The Laser-Line headlights signal the vehicle and load width in front of the vehicle to surrounding traffic with three red laser lines on the transport path.
It helps to make the width of the protective field transparent, especially when there is a high volume of people.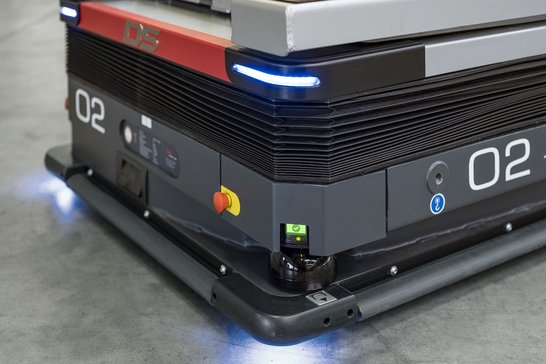 Signaling
With different light and sound concepts we increase the perception of the vehicles in your production environment and draw attention to any disturbances.
Skip slider
DS AUTOMOTION vehicles are produced according to EN standard and Preformance Level "d" and receive a CE marking after plant acceptance. This ensures that you meet all guidelines for personal protection and no unpleasant acceptance problems arise.
Jump to slider start