DS Automotion wins IFOY Award 2023 with ARCOS vehicle software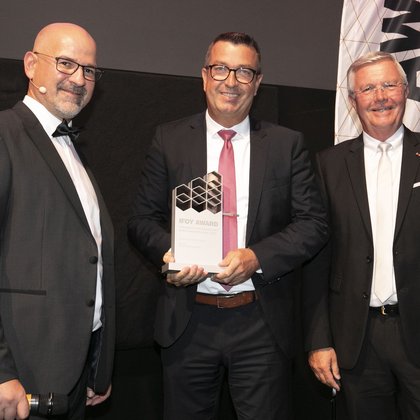 IFOY WINNER 2023
The international IFOY jury selected the vehicle software ARCOS as the best innovation in the field of intralogistics software: With the incomparable vehicle software ARCOS (Autonomous Robot Control & Operating System), DS Automotion enables its transport vehicles to act not only as Automated Guided Vehicles (AGV), but also as Autonomous Mobile Robots (AMR), thus setting an example in the world of intralogistics.
Skip slider
This award is confirmation of the company's innovative strength. To be the winner of the IFOY Award 2023 shows how important it is to work on new solutions in time to meet the requirements of our customers in the future.
Jump to slider start
SOFTWARE INNOVATION ARCOS
With the new software, DS Automotion vehicles can be integrated quickly and easily into production or logistics processes. In combination with the NAVIOS fleet manager, the planning and integration effort is reduced via the web-based interface. The zone-based planning and transport flow editor included in it allow operators to customize and expand the system. Transportation systems that use AMR with full autonomy typically have limited ability to intervene in the process. Here, the functions of "plannable autonomy" and "cooperative navigation" offer the possibility to define the behavior of the vehicles in more detail. As in the case of virtual lane-guided AGVs, complex systems are thus realized with the highest possible efficiency. Due to the standardized interface, the operator can integrate the system into an already existing plant with VDA-5050 interface and also expand it at any time.
"Schedulable autonomy" is a way to navigate vehicles both "virtually lane-guided" and autonomously. The basic building blocks for this are the autonomy zones in which the vehicles move freely.
"Cooperative navigation" describes the ability of autonomously navigating vehicles to work together to find solutions to problematic situations. For example, the vehicles independently clarify the right of way between vehicles at intersections or bottlenecks.
(Opens in new window)