The intelligence in the vehicle
To enable vehicles to make their own decisions in certain situations, we equip them with our ARCOS vehicle software. This not only ensures that a destination is reached in good time, but also a high level of safety for the facility and your employees. Obstacles can be avoided efficiently and people are protected by the vehicle recognizing and stopping them immediately.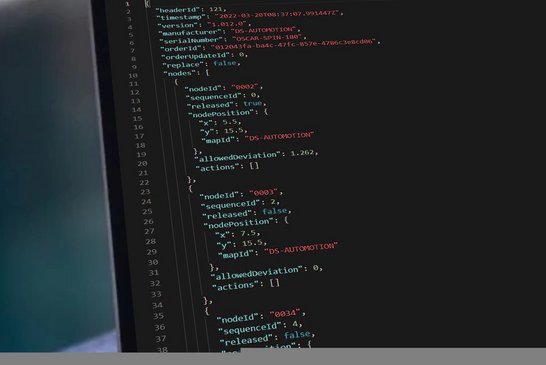 VDA Interface
To enable the individual vehicles to communicate with the master controller, ARCOS uses the standardized VDA-5050 interface. This not only allows communication with the VDA-compatible NAVIOS master control system, but also enables vehicles to be connected to an existing VDA master control system. This ensures that a vehicle not only finds the right path to its destination at all times and is informed of current changes, but also that vehicles from different manufacturers can be combined with each other.
Safety
Usually automated guided vehicles operate in areas where people also work. To ensure the safety of personnel at all times in these cases, we work with state-of-the-art safety components. In addition, these also allow a high degree of protection for objects in the way, which can be bypassed without any problems thanks to rapid detection.
Plannable autonomy
In many areas of production, it is becoming increasingly important for vehicles to be able to make their own decisions in certain situations: If an obstacle appears on the specified route or if people cross the path. To ensure that efficiency does not suffer as a result of too much autonomy, the ability to plan this is an essential part of our systems.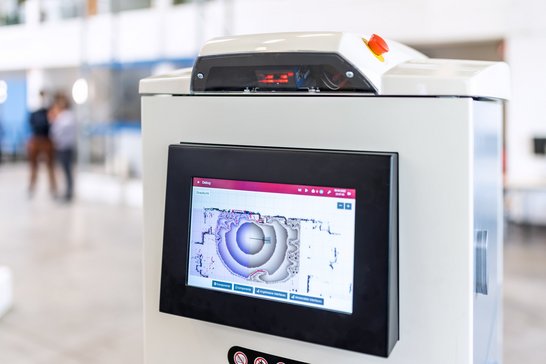 ARCOS user interface
ARCOS offers a simple user interface that allows the status of individual vehicles to be called up at any time and system parameters to be updated during runtime. To optimally support maintenance, the user interface is compatible with all common web-enabled end devices.
Web-based user interface
Responsive design
Commissioning and trouble-shooting wizards
Multilingual output
User and rights management