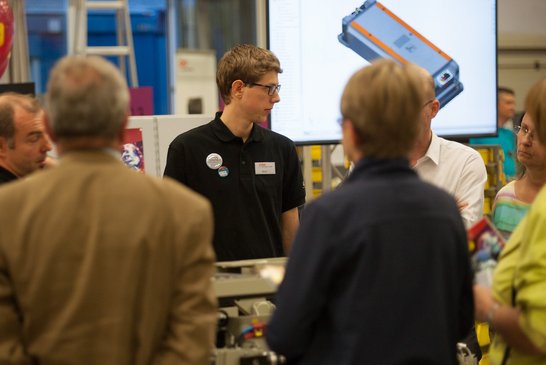 Where we go
We are thinker. Mechanical engineers and developers who, out of deep conviction, are constantly working to develop and implement new technologies. This enables us to offer a comprehensive portfolio of solutions - be it our standard products for vehicles and software or completely customized systems. And we are constantly improving them: through research projects together with universities and partners, through our own employees who continue to train and contribute their knowledge with great curiosity and initiative, and through our insatiable spirit of discovery.
Making innovations tangible
2023 we won the IFOY Award with our vehicle software ARCOS in the category software.
The jury of experts drew the following conclusion: With the new software, vehicles can be integrated quickly and easily into production or logistics processes. In combination with the fleet manager NAVIOS, the planning and integration effort is reduced via the web-based interface. The zone-based planning and transport flow editor included in it allow operators to customize and expand the system. Transportation systems using AMR with full autonomy typically have limited ability to intervene in the process. Here, the " plannable autonomy" functions offer the possibility to define the behavior of the vehicles in more detail. As in the case of virtual lane-guided AGVs, complex systems are thus realized with the highest possible efficiency. Due to the standardized interface, the operator can integrate the system into an already existing plant with VDA-5050 interface and also expand it at any time.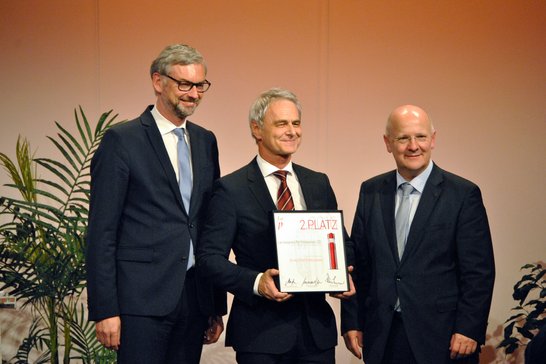 Where we come from
Innovation is deeply anchored in our corporate culture. And always has been. For us, this means not only that we constantly work on the further development of our products and solutions, but also that we learn from it. This allows us to improve not only the result, but also the processes that lead us there - be it internal project workflow processes, quality assurance or communication with our customers. Because it is only through these optimisations in the way we work that we have managed to maintain our market leadership for so many years and offer our clients the best possible solutions. This is how we have managed to develop our solutions into standards that now help more and more customers worldwide to successfully automate their production processes.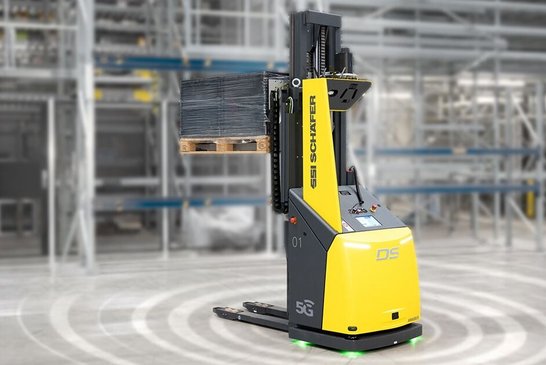 5-G connection
Together with our partner SSI Schäfer, an AMADEUS high lift truck was integrated into a 5-G campus network at the Giebelstadt Technology Center. In a test operation under real conditions, application knowledge is being gathered here in order to further exploit the optimization potential of intralogistics solutions in the future. This sets new standards for seamless roaming, maximum connectivity and optimized value creation processes.
With our technologies, we have always been pioneers in the field of automated guided vehicles, and we remain uncompromisingly committed to this. We attach great importance to extensive in-house core competencies, which are available in all important areas: Product development, software development for machines and control technology, engineering, mechanical engineering and plant planning.