Individual vehicles
You can't find a suitable product to automate your intralogistics? No problem. Our vehicles are as individual as your requirements. Whether as an automated guided vehicle (AGV) or as an autonomous mobile robot (AMR), we adapt our proven technology to your transport process.
The perfect vehicle for your requirements
To ensure that the route between the individual filling stations is also optimally executed, we automate the transport of the silos with our vehicles. Together with our fleet manager NAVIOS, the recipe can be defined, our vehicles then drive to the stations in the defined sequence and pick up each ingredient with gram accuracy
Large and special load carriers
Whether in car body construction or in furniture logistics, special and large load carriers offer special challenges for which we implement the appropriate solutions. Vehicles with increased stability ensure stable load changes and transports in order to have the appropriate reserves at hand even in emergency stop situations. By means of a variable protective field adjustment, different aisle widths can be driven on depending on the container.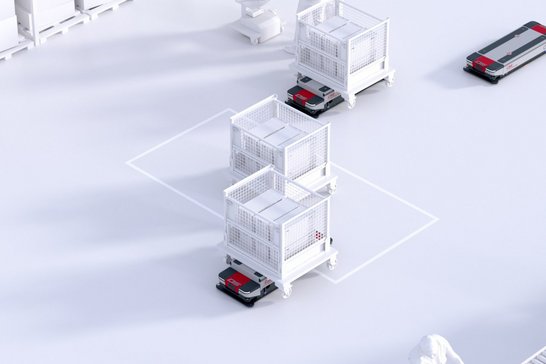 Area chaining
Many steps in production are now automated from the outset, promoting consistent quality and maximized production volume. But the individual stages of production often take place at separate locations and therefore require goods to be transported from one area to the next. Driverless transport systems come into play to save time here as well.
Load handling
Not every load can be transported on standard pallets. And where the standard ends, our customized solutions begin. No matter whether you have particularly massive large load carriers, unique components or other loads to transport. Our project teams will work with you to develop the perfect solution for automated transport.
Special processes
In order to successfully automate special tasks, transport vehicles are needed that are individually adapted to the process. No matter which technologies bring the decisive advantage, we have them in our portfolio. Through targeted engineering, we are able to implement customized logistics solutions in terms of both hardware and software.
Experience more highlights
Customized
The vehicle software ARCOS developed by DS AUTOMOTION forms the basis for a wide field of intralogistic applications. The know-how for individual load handling functions and adaptations to the navigation environment is firmly in our own hands. This means that there are no limits to the variety of applications.
Whether in single-shift or multi-shift operation, intralogistics is the pulse of every company. In order to be able to map the material flow as efficiently as possible, the right energy management is a central factor. Depending on the application, the focus is either on large capacities or fast-charging batteries that can be charged via ground contacts or inductive charging plates.
Let every plant have its freedom. Depending on whether flexibility or throughput is the priority, we give the vehicles the necessary level of autonomy. Our approach of plannable autonomy allows us to grant the vehicles the necessary level of autonomy depending on location and situation, so that they can also steer through unforeseen traffic situations.