" As well as" instead of "either - or"
The solutions offered in this field are as diverse as the requirements for driverless transport systems. Many of them were created for specific use cases, follow specific philosophies and are fixated on certain navigation and localization procedures. This applies to driverless transport vehicles (AGV) and autonomous mobile robots (AMR) as well as to guidance systems and vehicle software.
Diverse fleet, born driverless
DS Automotion GmbH has been developing and producing automated guided vehicles (AGVs) and autonomous mobile robotics since 1984. For the transport of standardized containers such as pallets or roll carts and containers, DS Automotion has a whole fleet of series vehicles in its portfolio. These include the OSCAR family of under-run vehicles and the LUCY, AMADEUS and ARNY series of pallet trucks, wheel arm high-lift trucks and counterbalanced trucks, as well as pallet transporters with mounted roller conveyors. Designed exclusively for driverless operation, they are "born driverless".
Suitable for industry with certainty
"All of these products come from our own development and production, as do the control and navigation systems," explains Kurt Ammerstorfer, Division Manager Sales, Product Management and Marketing at DS Automotion. "This is the only way we can master the different technologies and meet the diverse requirements of the individual applications with rapid innovation processes."
The AGV/AMRs from Linz score with robustness and endurance for tough everyday industrial use as well as with tested and certified functions for uncompromising personal and machine safety. Thanks to a high degree of standardization, DS Automotion's forklift trucks are also competitive with subsequently automated series trucks in terms of acquisition costs.
Flexibility through standardization
Designed as a smart modular system, the underride vehicles are available with conventional drive, with the ability to turn on the stand or in fully surface-mobile versions, the forklifts with different lifting heights, fork widths and lengths, and a whole catalog of attachments for load handling.
They can operate with different battery types and charging concepts and can handle both physical or virtual lane guidance with all known technologies as well as free navigation with all common navigation and localization methods. Within just one vehicle, they can also use these in combination, for example to supplement contour-based navigation for transport with dead reckoning with magnetic points for precise load transfer.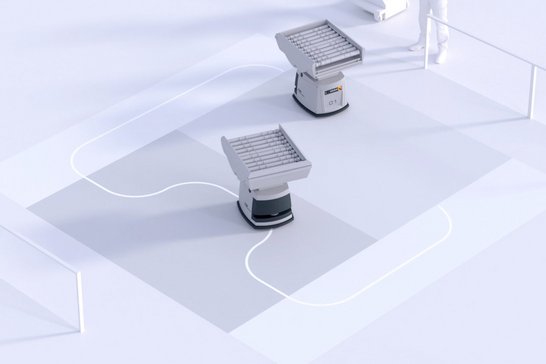 Plannable autonomy
The vehicle software ARCOS (Autonomous Robot Control & Operating System), which will soon be uniformly installed in all DS Automotion vehicles, allows them to optionally use autonomous functions or to drive through predefined lanes, meaning optional operation as AGV or AMR. In conjunction with the NAVIOS control system, this enables cooperative and collaborative navigation with a plannable degree of autonomy.
"Users can define navigation corridors within which the vehicles find their own way," explains Wolfgang Hillinger, Managing Director at DS Automotion. "In just one transport system and in the same facility, the highest flexibility and maximum efficiency from the two worlds of AMR and AGV can thus be realized with plannable autonomy." This groundbreaking technology has been nominated for the IFOY AWARD 2023.
Open-mindedness enables complementation
The intelligence behind DS Automation's flexible solutions, the NAVIOS master controller, is not just a fleet management system. As a fully-fledged intralogistics system, it can independently create the transport orders from demand data and control the entire automated material flow.
In addition, NAVIOS controls the interaction with other traffic participants, such as manned forklifts, elevators, rolling or fire protection gates. NAVIOS also enables the seamless connection of stationary conveyor technology or warehouse technology in order to expand these into holistic logistics solutions by combining them with AGV solutions. This gives their operators completely new dimensions of flexibility. Therefore, it was a logical step for SSI Schaefer to fully integrate DS Automotion, the expert in the field of AGVs and AMRs with a wide range of solutions, into the company family.
No transport task unsolvable
For communication with the AGVs or AMRs, NAVIOS uses the standardized, open universal interface VDA-5050, which enables vehicles from other manufacturers to be integrated into the facility, for example if a special vehicle is required within the fleet for certain tasks.
"An AGV for assembling truck cabs naturally looks different from one for transporting sheet metal coils," says Kurt Ammerstorfer. "Even today, our engineers in Linz sometimes design completely task-specific vehicles" Due to this competence, even exotic transport tasks do not cause DS Automotion any embarrassment when it comes to providing the right vehicle.
Everything, really everything from a single source
As complete systems, automated guided vehicles must enable future-oriented business processes and support them for many years. This requires good, forward-looking overall planning and competent support for operation, maintenance, expansion and conversion. This has also been part of DS Automotion's comprehensive AGV/AMR offering for almost 40 years.